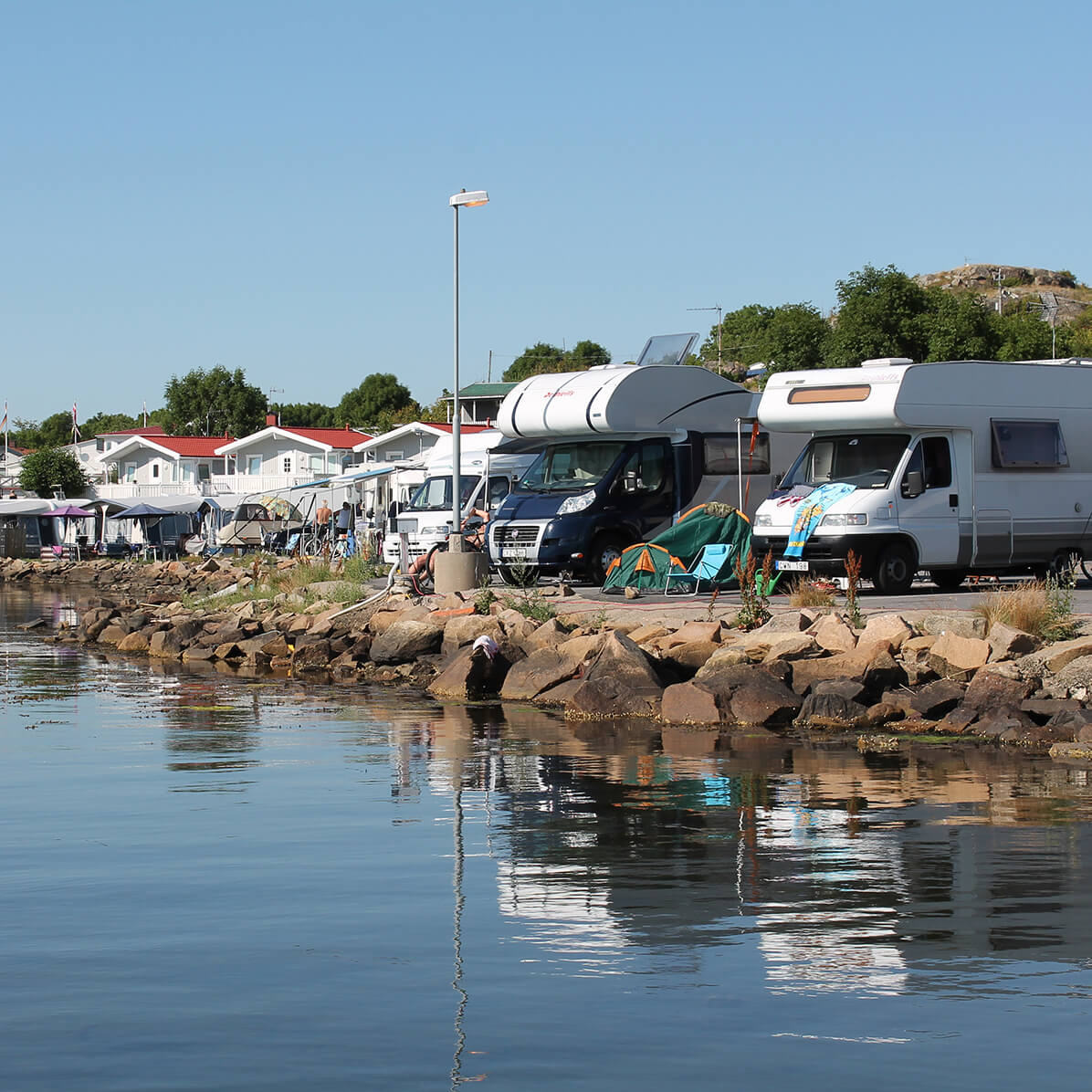 Travel by motorhome on the West Coast
For those travelling by motorhome, your needs may be different from those living in other types of accommodation. From the substrate of the campsite you rent to the limited need for service buildings and other facilities. Several of the campsites in Camping Västkust have made adaptations for you with a motorhome which can in various ways give you increased comfort when you travel in Western Sweden and visit Halland, Gothenburg or Bohuslän next time.
Experience the West Coast with a motorhome
The west coast with Halland, Gothenburg and Bohuslän has a lot to experience. Regardless of whether you plan to have a campsite as a starting point for several days or if you just stop for one night and then travel on. Here you live comfortably and safely at campsites that have special adaptations for you with a motorhome. Some of the campsites are also open all year round.
In addition to the facilities and what is in the immediate area, such as hiking trails, bike trails, cliffs and sandy beaches, there are also activities, restaurants, pool areas and kayak, canoe and boat rentals. Bicycle rental and numerous tips on excursion destinations to experience nearby during your visit.
Motorhome lots and parking spaces for a convenient stop on the road
Advantages of staying at a campsite during the mobile home holiday in Sweden are that you can empty greywater, latrine, fill up with water, use the toilets, showers and washing facilities of the service houses. Most facilities also have a restaurant and shop in case you wish to fill up your stomachs and the motor home with food and other necessities before it's time to move on.
Mobile home sites: In recent years, many of the facilities have prepared specially designed mobile home sites with electricity connection, reinforced ground as well as water and sewage.
Quickstop: Offered in several places and this means that you stay at a reduced price if you check in in the evening and leave again in the morning. A perfect choice for those who are traveling and want to make a quick and safe overnight stop.
Parking: Some of the facilities offer pitches, which is a designated area for setting up/staying overnight with a mobile home for a shorter period of time. There is access to emptying and refilling water at the pitch. Availability around the clock. You therefore do not always have free access to the campsite's service house, washing stations and activities, etc.
Emptying station: Almost all facilities offer an emptying station for you as a motorhome guest, here you can easily empty your fixed tank and fill up with water.
Campsites with specific pitches and adaptations for mobile homes
Gullbrännagården
The pitches are located next to the edge of the forest, centrally but in a quiet area. The sites are equipped with electricity, water and sewage and are easy to drive in and out of.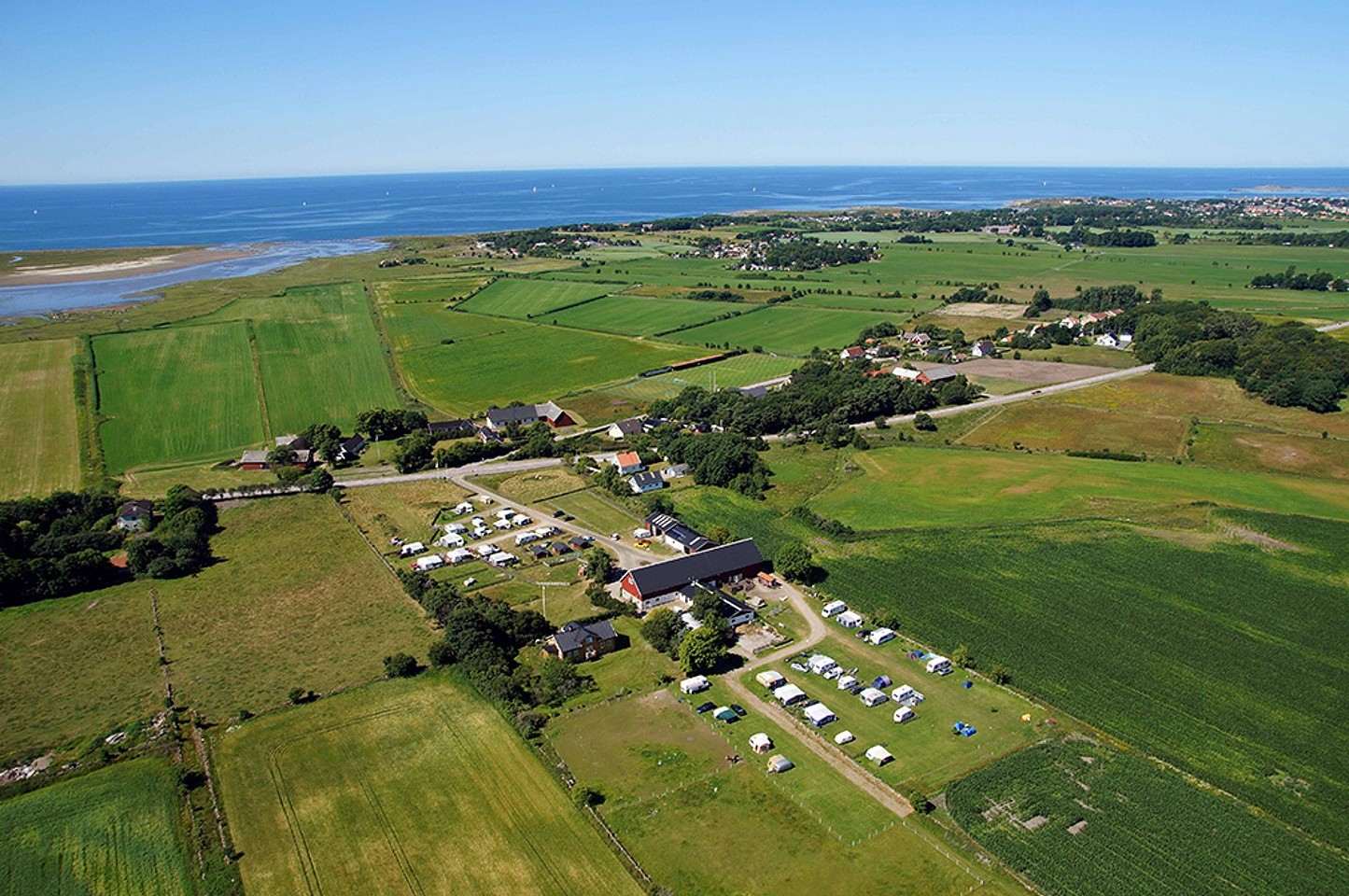 Rödlix Hostel & Camping
At Rödlix Vandrarhem & Camping you can stay in pitches in a rural and quiet area south of Varberg. All pitches have electricity and you can stay here between 1-3 nights.

Partille Hostel & Caravan Park
Here you live in quiet, green surroundings 13 km from central Gothenburg. Partille Ställplats is open 24/7 with self-service via a machine at the entrance if you have pre-booked your place. Bookings are made by phone or email which is available on the website.
Daftö Resort
Here you can live on mobile home plots of various sizes near service centers and beautiful views. The area also has a CamperClean for convenient latrine emptying. Daftö Resort is open all year round!
Liseberg Village
In Lisebergsbyn there are mobile home spaces on asphalt. Most places have access to both electricity and TV sockets. Here there is room for the mobile home but not for outdoor furniture or an awning. If you want more space, book a caravan pitch.
Ugglarp Camping
At Ugglarp Camping you will find the mobile home pitches closest to the sea with the fine sandy beach and next to the adventure golf course, the service center and the activity area.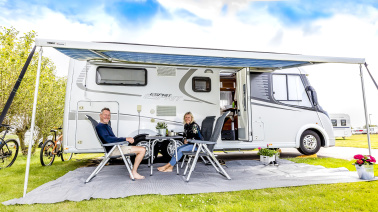 Olofsbro Camping
You can come here with your motorhome on drop-in from any arrival time, any length of stay and check-out at 11:00 on the day of departure. All plots have electricity. The price includes gray water emptying, water refilling, latrine emptying and access to a service house.
Unda Camping
At Unda Camping in Uddevalla there are gravel mobile home sites. For those who just want to stay overnight, Quickstop is offered without electricity in the car park.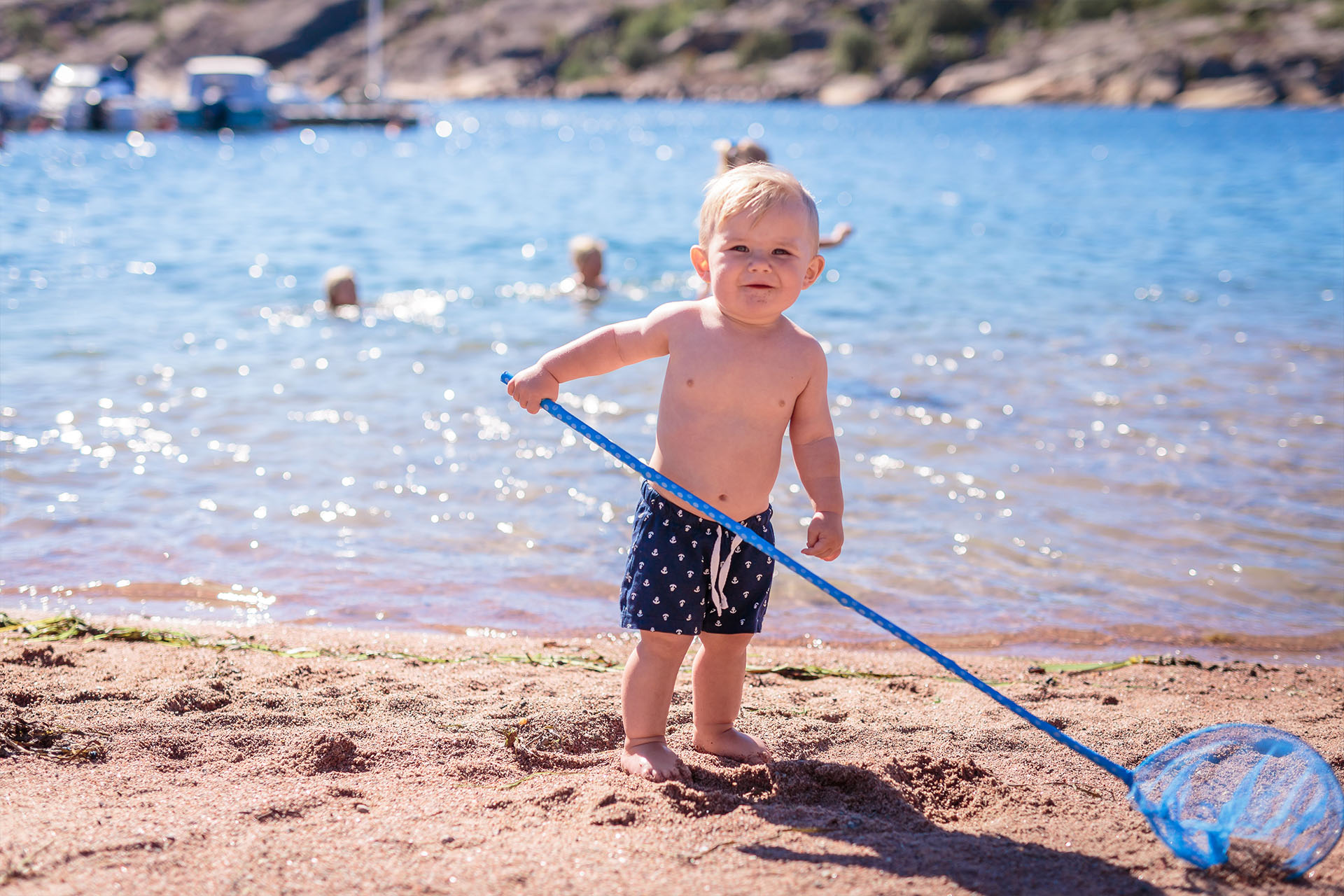 Örnefjorden Camping
At Örnefjordens Camping there are specific mobile home sites without electricity. If you want electricity, you instead book a camping site which, in addition to electricity, has water and sewage.
Hafsten Resort
At Hafsten Resort, there are different pitches for you with a mobile home, depending on the comfort you are looking for and how big your mobile home is. The sites have a grass surface or a gravel surface with associated grass. Common to all is that you live close to services and facilities.
Hansagård Camping & Resort
At Hansagård Camping & Resort there are specific mobile home pitches with water and sewage and close to reception, service house and playground.
Haverdals Camping
There are both mobile home sites with electricity inside the area and parking spaces for mobile homes outside the barrier. The pitches have electricity and are paved. These places are easily accessible even for late arrivals.
GrebbestadFjorden
At Grebbestad Fjorden in Grebbestad there are two options in areas with pitches to park the motorhome. Right next to the Nordic region's largest sports shop and a stone's throw closer to the center of Grebbestad.

Vilshärad Camping
Vilshärads Camping is located approx. 10 km north-west of Halmstad along the coast, approx. 6 km north of Tylösand. Before the summer of 2021, new mobile home plots are ready for you to live on.
Sea & Lodging
There are six parking spaces for mobile homes, right outside the reception at the entrance. All sites have electrical sockets and access to a service house with shower/WC, washing machines, kitchen, dishwasher and a patio. There is a shared barbecue area next to the service building.
First Camp Edsvik
The mobile home pitches at First Camp Edsvik are near the reception and all pitches have electricity.
Anfasteröd Gårdsvik
The mobile home pitches with gravel as a base are located at a height with the sea right in front and at a convenient distance to newly built toilets and showers as well as water supply and latrine emptying.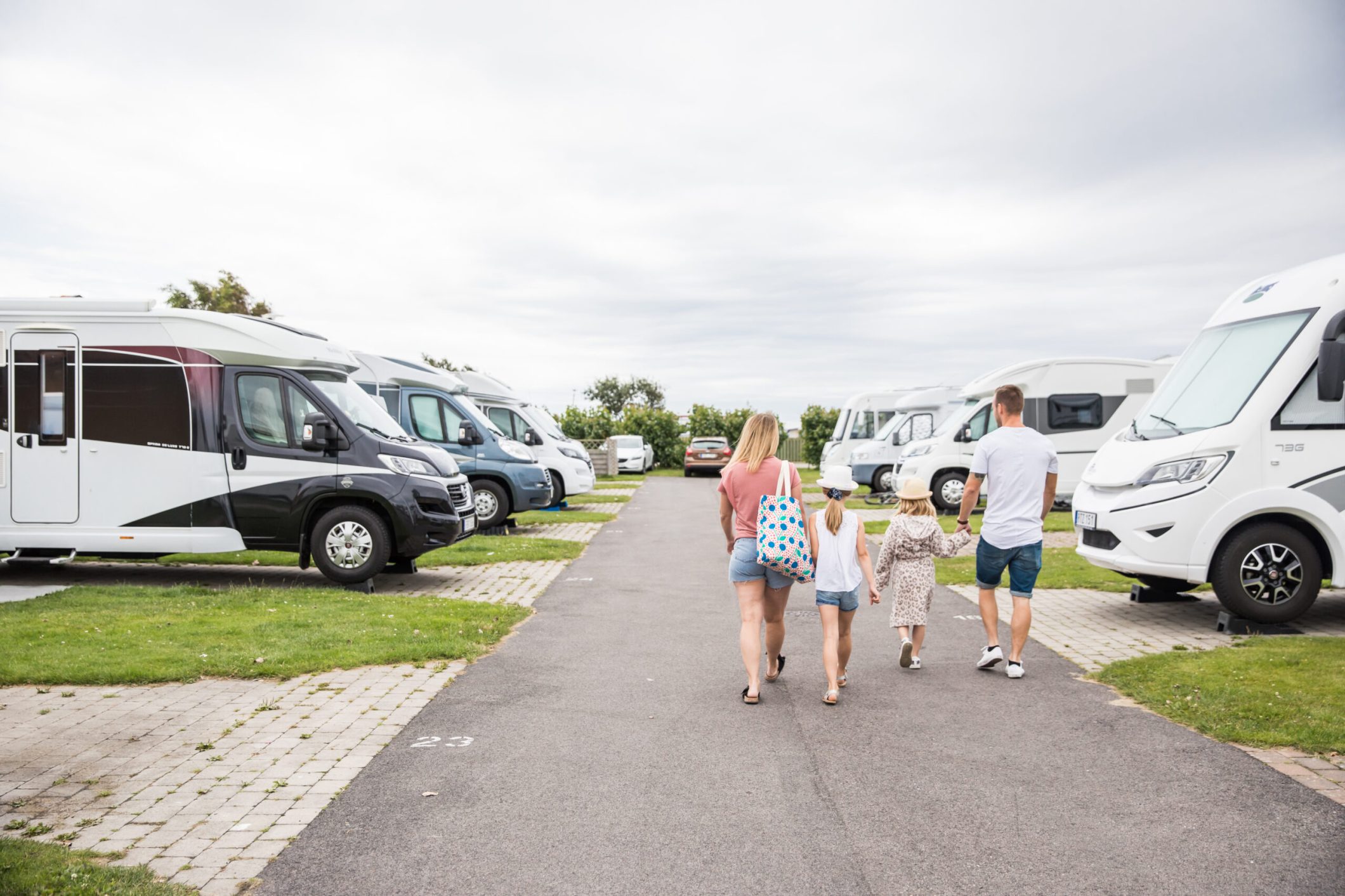 Getteröns Camping
The mobile home sites are divided into two areas, inside the campsite and next to the reception. The pitches have a stone-paved surface for the motorhome as well as a grass surface.
Destination Apelviken
There are three types of mobile home sites to choose from, depending on how big your mobile home is and whether you want water and sewage in addition to electricity. The common feature is that the plots have a hard surface.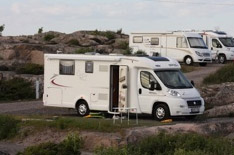 Sotenäs Camping
Custom RV lots with artificial turf and electricity at every site and with skyline views. Service house next to the mobile home sites with kitchen, toilet and shower.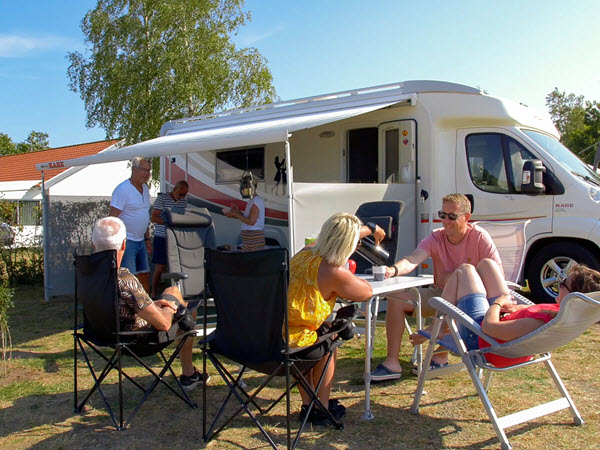 Båstad camping
There are 56 pitches with electricity in the area. All sites are grass-covered and approximately 70 square meters. At the back of the reception there is a service station where you can fill up drinking water, empty gray water and latrine free of charge.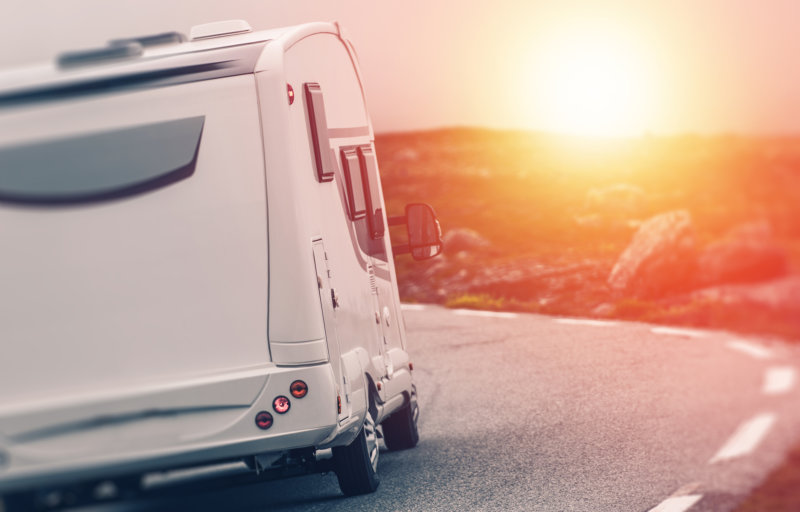 Johannesvik Camping & Cottages
There are pitches inside the area and at the boat harbor opposite Hovenäset. The places have electricity. WC and shower are available in a service building adjacent to the sites. Filling/emptying the water tank etc. is done in the camping area at the reception.
Åsa Camping & Seaside Resort
Some pitches are next to the sea and cannot be pre-booked. Use the campsite's quickstop sites when you only need an overnight stay from evening to morning, at a low price. If you want to arrive earlier or leave later, you pay extra per hour, but never more than regular prices.
Lagunen Camping & Cottages
In the mobile home park, you live on your own plot with a private patio, water, sewage, electricity, internet and TV. Some places also have a private fireplace with a grill function. Stay in places next to the beach, higher up with a view or on the sunny side with the area's best location for sun and beautiful evenings with a fantastic view of the bay.
Wiggersviks Camping
Here there are mobile home pitches in the campsite's best location, right next to the sea. The plots are gathered on both sides of the bay and also scattered around the area. All mobile home sites in the area have electricity.