The long sandy beach stretches 14 km, from Lagaoset in the north to Båstad in the south. Right in the middle, right next to the dunes, you will find Mellbystrands Camping where you can choose to rent a cabin or live in your own accommodation in the form of a mobile home, caravan or tent on the camping site. Here you are close to a lot. Even a day trip to Liseberg or Denmark is quite possible.
The west coast's longest sandbar
Follow the sand through the dunes to the west coast's longest sandy beach. Here you can swim, sunbathe and stroll around. Maybe go for a run at the water's edge, have a picnic, play ball or enjoy a good ice cream from the campsite's ice cream bar. With its light and soft sand, it brings to mind significantly more southern latitudes.
At Ängen you will find minigolf, but also football billiards, shuffleboard and pétanque. In Melle's krypin, all children and young people can participate in various activities during the high season, such as e.g. volleyball, soccer, baking and painting.
If you want to be active, you've come to the right place. During the summer season, various leader-led training sessions are arranged, for example heart rate training or yoga. Mellbystrands Camping is adjacent to the Hökafältet nature reserve, where there are several exercise tracks of between 2.5 km and 9 km. There is also a large outdoor gym, barbecue house and toilets here. If you want to experience even more of Halland on foot, we can recommend the Hallandsleden trail.
If you have a bike with you, we can recommend stages of the Kattegattleden trail that connects to the campsite, loops in the forest or the more challenging Buktenbanan for mountain bikes.
Experiences and excursions around Mellbystrands Camping
Kungsbygget's adventure park is beautifully located on Hallandsåsen with lovely forest areas and a fantastic view of Halland. Active experiences are offered here with summer tobogganing, zipline, climbing, cycling and bungy rocket.
Mellby Padel Center is a modern padel facility with five padel courts, just outside Laholm in southern Halland, between Båstad and Halmstad.
For those who are attracted by speed and excitement, we can recommend Blåkulla outdoor go-kart – a fast-paced experience for the whole family.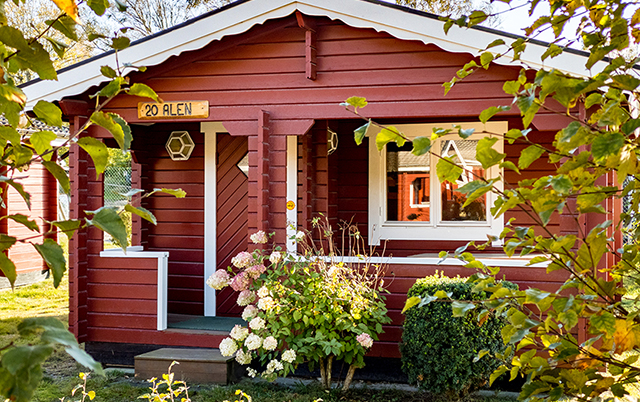 Photo: Mellbystrands Camping